Us -Pak Colleboration
ISLAMABAD: Three US and four Pakistani universities have agreed to collaborate on research on energy, water and agriculture.
The US will provide $127 million for the establishment of the Centre for Advanced Studies (CAS).
The partnership will harness applied research and find innovative and practical solutions for Pakistan's energy, water, and agriculture and food security challenges.
Under the CAS programme, the University of Agriculture Faisalabad and University of California, Davis will collaborate in agriculture and food security. In the energy sector, NUST and University of Engineering and Technology Peshawar will jointly work with the Arizona State University, while Mehran University of Engineering and Technology Jamshoro will work with the University of Utah for water projects.
_____________________________
A complete List of  Scholarships  is available from the  Higher Education Commission of Pakistan, visit  the website.
Visit British Council website for International and CommonWealth scholarships
______________________________
Fake Degrees, real cash
A
A detailed NYT report titled "Fake Diplomas, Real Cash: Pakistani Company Axact Reaps Millions" and written by New York Times Pakistan bureau chief Declan Walsh outlined how Axact — referred to as a "secretive Pakistani software company" — allegedly earned millions of dollars from scams involving fake degrees, non-existent online universities and manipulation of customers.
Axact chief Shoaib Shaikh detained amid claims his network made millions of dollars selling bogus qualifications from universities such as 'Columbiana'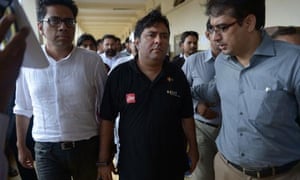 Pakistani authorities have detained the owner of a software company accused of running a global network in selling fake degrees.
Detectives held Shoaib Shaikh on Wednesday and seized hundreds of thousands of fake degrees during a raid on the Axact company offices in Karachi, Shahid Hayat, provincial director for Pakistan's federal investigation agency, said.